Yabda International Conference and prize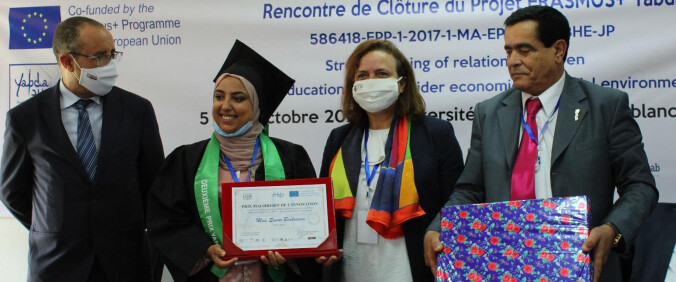 On October 5th, 2021, after the pre-final rounds at a national level on July and September, the international final round was organised in hybrid mode. The event began with the introduction made by the coordinator of the YABDA project at the Maghreb level.
The final took place in two stages which included a presentation of the project ideas of each team and an interview with the jury. Both the presentation and the interview had a duration of 15 minutes. There was one project leader nominated for each country.
Following the presentation of the projects and the interview, the members of the jury met and each member presented their assessments of the projects in front of the other members of the jury. The three projects were assessed as innovative and having a potential socio-economic impact. The project presented by the candidates of UB1 Algeria (concerning vegetable milk extracted from quinoa seeds) was appreciated as the most mature in terms of the state of progress towards marketing.
The result of this classification noted (unanimously) as the winning project the project of UB1 Algeria. The projects of UTEM – Tunisia and UH2C – Morocco tied for second place.